Registration Deadline: June 13th, 2017. On June 20-22nd 2017 HSEMA,
in partnership with FEMA Region III, will be conducting Public Assistance (PA) Training.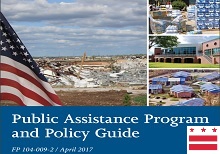 Preliminary Damage Assessment (PDA) Analysis
Request for Assistance
PA Eligibility Criteria
PDA Process New Doctrine Orientation
Primary & Secondary Debris/Permanent Removal Procedures
Mitigation Assistance
PA Cost Estimating
Registration Deadline:
Registration:
Exercise Date:
Time:
Start: 8:00 A.M.
Finish: 5:00 A.M.
Location:
N&A Typing:
(NA1TO): Course Announcement Public Assistance (PA) Training
Type# : (T19) Training Class/Exam
Category #: (C11) Emergency Preparedness
Audience #: (A1) District Employee (A2) Dedicated Contract Support Staff (DCSS)
Ward #: (W8) Ward 8
Police District #: (7D) Police District 7
Advisory Neighborhood Council #: (ANC 8C) ANC 8C
Target Audience:
District Agency PA Applicants
Damage Assessment Task Force
District Preparedness System Recovery Subcommittee Members
EOC Incident Management Support Team (IMST), Finance and Admin Section
Course Topics:
Eligibility
PA Alternative Procedures
Debris Management Planning
Debris Operations
Debris Contracting
Cost Estimating Format
Procurement Requirements
Monitoring
406 Mitigation Opportunities
Mitigation Cost Effectiveness
POCs:
Additional Resources:
Information Sources:
"Course Announcement: Public Assistance (PA) Training" PDF
Email: "District of Columbia Disaster Recovery Program Course Announcement: Public Assistance Training" 4/14/17