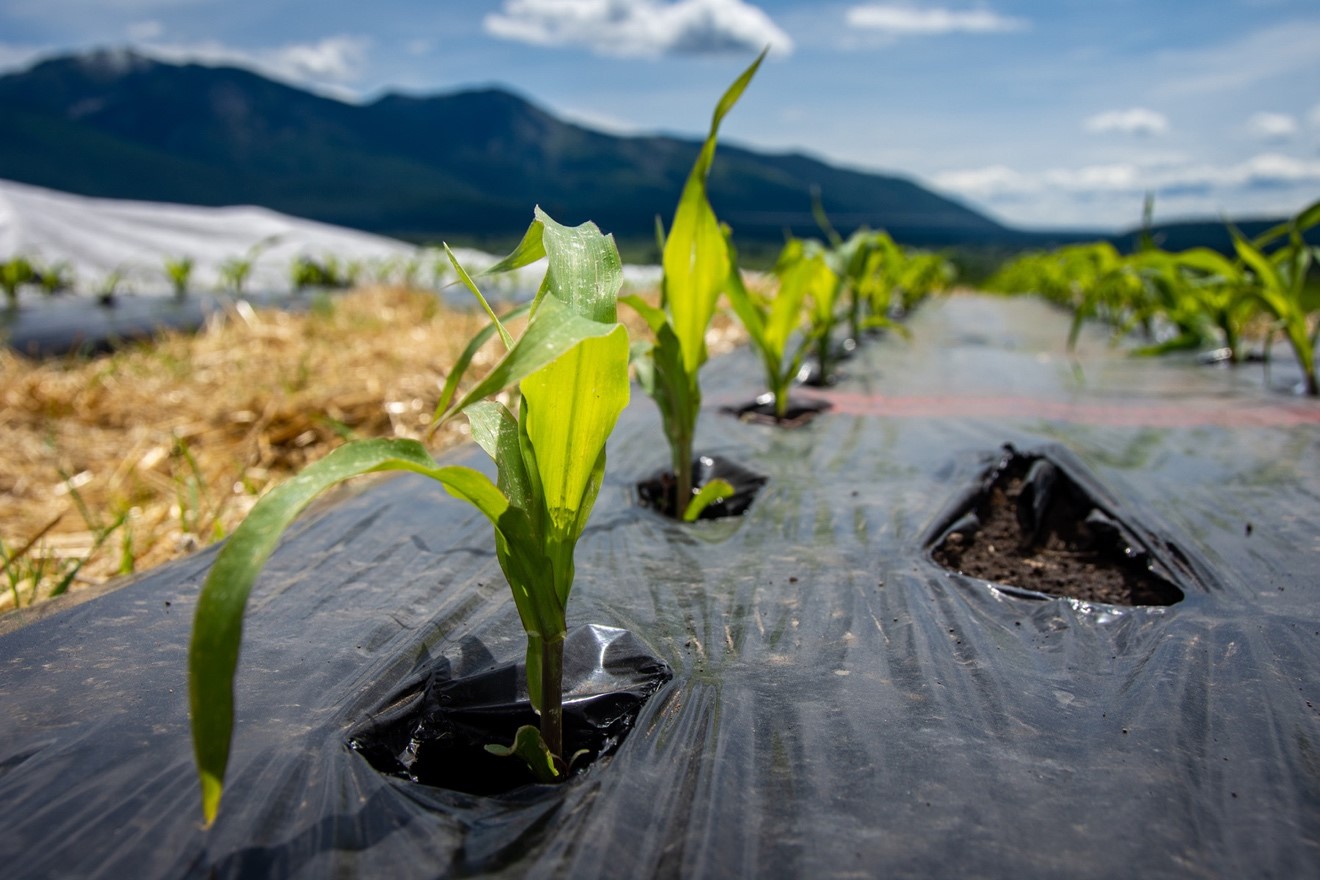 The Harlequin Produce farm grows a wide variety of organic crops like these corn plants in Arlee, Montana (Source: USDA NRCS Montana, June 2019).
FOOD AND AGRICULTURE SECTOR PERSPECTIVES
· JUNE 7, 2023
AGRICULTURE & FOOD DEFENSE

,

ARTICLES

,

CBRNE

,

COMMUNICATION & INTEROPERABILITY

,

CRITICAL INFRASTRUCTURE

,

CYBERSECURITY

,

EMERGENCY MANAGEMENT

,

FEATURE

,

PUBLIC HEALTH

,

SCIENCE & TECHNOLOGY

,

TRANSPORTATION

AURELIA BERISHA, ISAAC DIETRICH, BEN DINSMORE, BERT CRAMER AND HEATHER ALLEN
The U.S. Food and Agriculture (FA) Sector is composed of complex production, processing, and delivery systems that can feed people and animals both within and beyond the boundaries of the United States. Beyond domestic food production, the FA Sector also imports many ingredients and finished products, leading to a complex web of growers, processors, suppliers, transporters, distributors, and consumers. These food and agriculture systems are almost entirely under private ownership, operate in highly competitive global markets, strive to operate in harmony with the environment, and provide economic opportunities and improved quality of life for American citizens and others worldwide. Food, agriculture, and related industries contributed more than a trillion dollars to the gross domestic product in 2021 and accounted for nearly 11% of total employment, including around 2.6 million farm jobs and nearly 20 million jobs in food- and agriculture-related industries.
If using the Department of Homeland Security's (DHS) Infrastructure Data Taxonomy, this massive system critical to economies, public health and human culture would be described as being comprised of establishments primarily engaged in growing crops, raising animals, harvesting timber, fish, and other animals from a farm, ranch, or their natural habitats. Food establishments transform livestock and agricultural products into products for intermediate or final consumption.
WHAT MAKES THIS SECTOR CRITICAL TO THE NATION, AND WHAT POSSIBLE EFFECTS DOES IT HAVE ON STATES AND LOCAL COMMUNITIES?
The FA Sector underpins all aspects of U.S. society and national security interests. From large-scale commercial farms to local farm stands and farmer's markets, the FA Sector is essential to the U.S. economy and American way of life. The United States has highly productive agricultural systems, a vigorous private agribusiness sector, extensive FA infrastructure, and supportive public policies and institutions that contribute to a dependable, affordable, safe, and diverse food supply. A strong and secure FA Sector fortifies the nation's safety, prosperity, and well-being.
The federal government works with the private sector and state, local, tribal, and territorial (SLTT) partners to safeguard FA Sector production ability, technological advances, and global reputation for safety. All levels of government share responsibility for protecting access to food and preventing agricultural production shortfalls. During the Coronavirus COVID-19 pandemic, even minor disruptions to the supply chain and availability of certain products left a profound mark on the consciousness of the American consumer. These disruptions highlighted what many agricultural producers already knew: how important it is to build more resiliency and security into the FA Sector. The lessons learned from the early days of the pandemic have spurred partners around the country in both the public and private sectors and at all levels of government into action to further strengthen the FA Sector.
WHAT ARE THIS SECTOR'S KEY ASSETS AND INTERCONNECTED/INTERDEPENDENT SYSTEMS (PHYSICAL OR CYBER)?
The FA Sector is highly interconnected with other critical infrastructure sectors. Trends or incidents in transportation, water, distribution, energy supplies, and labor, for example, can all have an impact on the FA Sector.
FA relies heavily on the security and resilience of U.S. supply chain and transportation systems. In fact, agriculture is the largest user of the freight transportation system in the United States, and the need for transportation services will only continue to increase as agricultural production, exports, incomes, trade, and world population grow. Beyond the freight system, waterways remain the United States' cleanest mode of domestic agriculture distribution – just one example of FA Sector water dependence.
Over the last few decades, the FA Sector has become increasingly reliant upon the use and development of technological and scientific advancements. Industrial farm machinery has grown beyond traditional tractor and plow practices. Large- and medium-scale farming operations now often rely on computer-assisted equipment, drones, imagery systems, and advanced irrigation systems for their day-to-day operations. More broadly, FA is also heavily influenced by research and development advancements which have been essential in the realization of stronger farm biosecurity, increased productivity, and continued competitive advantage in global markets.
Lastly, and most importantly, the FA Sector relies on the individuals who work every day to ensure that the sector is operational and productive. From family-run operations to large-scale farming to laboratory technicians developing stronger seeds, the people who are actively engaged in the FA Sector are its most important asset.
WHAT ARE THIS SECTOR'S DEPENDENCIES (PHYSICAL, CYBER, GEOGRAPHIC, AND LOGICAL) AND INTERDEPENDENCIES WITH OTHER CRITICAL INFRASTRUCTURES?
FA constitutes a massive system of critical infrastructure that, by nature, is heavily reliant on the success of other critical infrastructures. Nearly every aspect of FA supports and is supported by the other 15 sectors designated by Presidential Policy Directive-21. Several examples of this include:
Chemical

– The development of fertilizers, pesticides, soil, water additives, feed, and much more that bolster the ability of producers to maintain stronger, more resilient systems is reliant on the Chemical Sector and its intersections with FA. Additionally, FA has relied on the Chemical Sector to ensure the continued availability of cleaning and sanitizing products used within food operations.

Commercial Facilities

– To obtain the food that Americans put on their tables, they usually rely on commercial facilities that hold, distribute, and sell food, water, and other agricultural products. This creates a heavy dependence on the Commercial Facilities Sector.

Critical Manufacturing

– Without many of the products manufactured in American facilities, the FA Sector would be unable to fulfill its demand or compete with the rest of the world. From even the smallest products like horseshoes to massive irrigation systems, FA is reliant on the ability of U.S. manufacturing to deliver daily.

Dams, Energy, and Water Systems

– As noted above, water is essential to the success of FA – and life, more generally. Not only does it function as a critical resource for the growth of FA products, but it also develops energy that FA facilities rely on. Waterways are used as a transportation method to move FA across the country and to ports for further international trade. Beyond water, energy is what moves the resources that produce FA. Nearly every level of the FA Sector depends on the availability of energy in the form of distilled fuel (i.e., gasoline, diesel), electricity, propane, natural gas, nuclear, and renewable fuels (including wind and solar energies).

Information Technology (IT)

– Like other sectors, FA has become increasingly reliant on the stability of IT systems. Satellite imagery, the global positioning system (GPS), and position, navigation, and timing technologies support programs aimed at improving agricultural and ecological practices and allowing farmers and other producers to make better use of their land and resources. Computers have become a part of the daily activities of both small- and large-scale agricultural producers, supporting the spread of best practices, as well as creating the ability to track and monitor production outcomes.
These examples are only a small part of the FA Sector's interaction and interdependence on other critical infrastructure sectors. According to USDA's National Agricultural Statistics Service (February 2022), there are 2,012,050 farms and ranches in the U.S. These operations use different methodologies and practices based on location, size, and production focus. This means that farmers, ranchers, and other producers interact with U.S. critical infrastructure in diverse and wide-ranging ways. All of which are incredibly important – especially at the local level.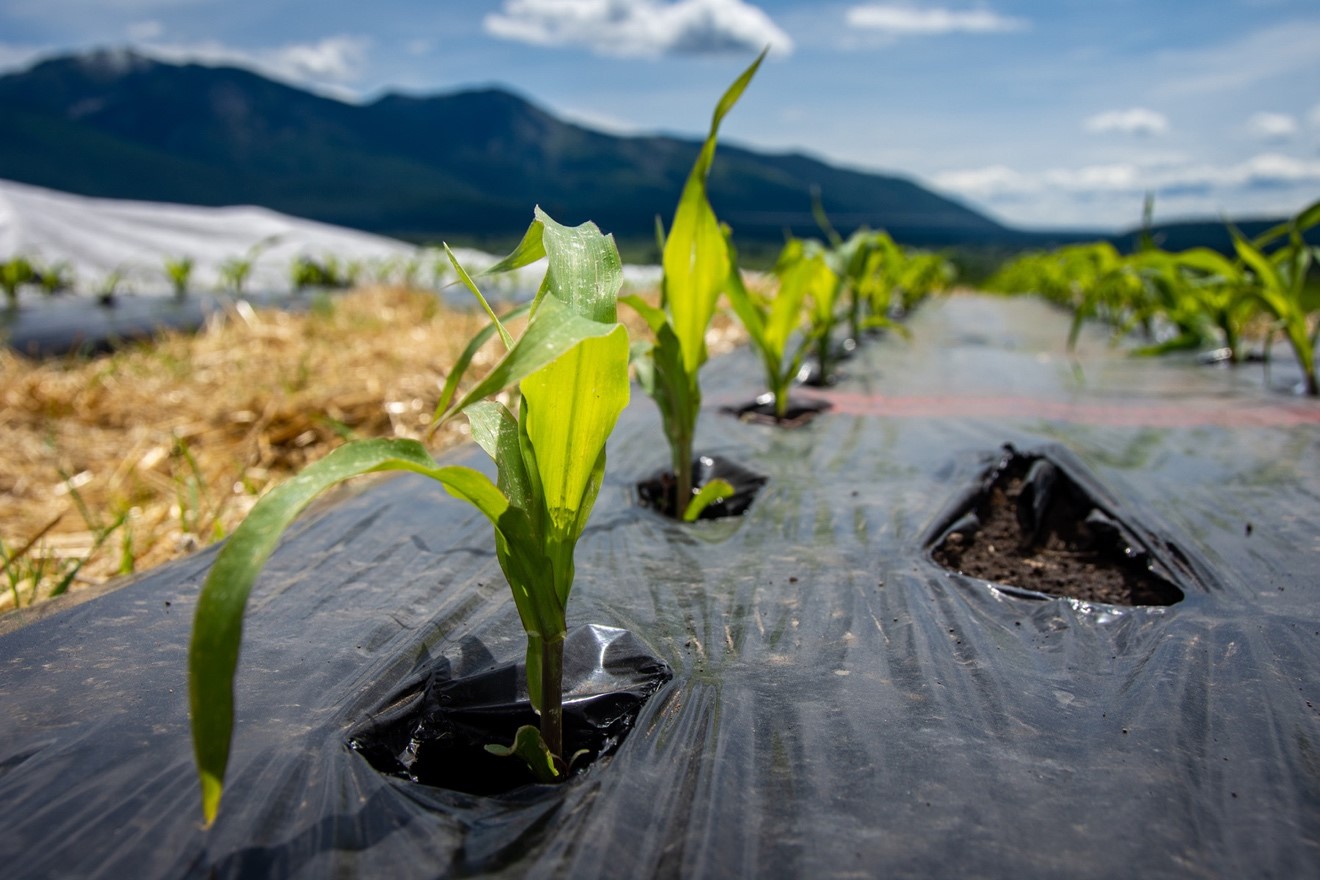 The Harlequin Produce farm grows a wide variety of organic crops like these corn plants in Arlee, Montana (Source: USDA NRCS Montana, June 2019).
WHAT ARE THIS SECTOR'S CURRENT AND EMERGING VULNERABILITIES, HAZARDS, RISKS, AND THREATS?
Since the FA Sector is interconnected and primarily composed of private and non-federal entities, a broad range of international and domestic threats could exploit vulnerabilities within this critical infrastructure sector. Motivation for threat actors who may be targeting FA range across the spectrum: economic/commercial exploitation, trade advantage, science and technology intellectual property theft, and violent extremist ideologies. Some notable vulnerabilities, hazards, and risks include:
Transportation

– As noted, the FA Sector largely depends on the transportation industry for the storage, distribution, trade, and exportation of food and agriculture products. However, existing bottlenecks and aging transportation infrastructure are no longer sufficient to support the current operational activities within the FA Sector. Additionally, many food and agriculture products have a short shelf-life. Therefore, if shipments are disrupted or delayed, there may be significant loss in the supply chain.

Labor

– Labor shortages are another significant hurdle that FA Sector and FA-dependent industries must overcome, as there are not sufficient workers to handle a growing demand due to low wages, difficult working conditions, inflexible schedules, and other factors. This vulnerability was especially exposed during the COVID-19 pandemic and ongoing pandemic recovery.

Chemical, biological, radiological, and nuclear (CBRN) threats

– CBRN threats can be any poisonous agent, toxin, pest, pathogen, nuclear, or radioactive material used to disrupt agriculture and livestock. The FA Sector is vulnerable to CBRN attacks, as the introduction of hazardous contaminants in FA systems can have grave consequences and lasting impacts on the security and stability of the nation. The threat of CBRN continues to grow as novel advances streamline and facilitate certain scientific procedures that previously hindered malicious actors from acquiring, weaponizing, and dispersing hazardous materials. Thus, the elimination of barriers to CBRN presents a continuous and emerging threat for critical infrastructure as the reality of malicious actors introducing an agent to FA systems is becoming more salient.

Cyber

– Due to the growing reliance on the Internet of Things, Industrial Control Systems, cyber systems, and infrastructure within the FA Sector, cyberattacks present a rising threat to FA. Some of the most common forms of cyber risk include malware, phishing, and ransomware. The FA Sector is not impervious to cyberattacks since most (if not all) of its industries and those it relies on are heavily dependent on technology for the production, storage, distribution, and service of food.

Climate Risk

– The effects of climate change present a significant threat to the U.S. agricultural production and economy, as shifts in weather patterns and elevated climate temperatures increase the frequency of natural disasters (such as severe storms, floods, hurricanes, droughts, and wildfires). The increased trends in natural disasters pose long-lasting consequences to crop and livestock production, land use, and water quality and availability. Additionally, these climate change effects have also contributed to the increased spread of pests and invasive species that harm the ecosystem, water resources, biodiversity, and agricultural and forest production.
HOW WOULD A HUMAN-CAUSED, NATURAL, OR TECHNOLOGICAL DISASTER IMPACT THIS SECTOR'S PREPAREDNESS, RESPONSE, AND RECOVERY EFFORTS?
National Security Memorandum-16 (NSM-16) was issued specifically to strengthen the security and resilience of United States food and agriculture. As noted in NSM-16, any human-caused, natural, or technological disaster can have major and long-lasting consequences for the FA Sector – especially if the nation is not equipped to manage such events.
If a CBRN agent were released into agriculture products (whether deliberately or inadvertently), there would be major economic and social implications involved. The first response to a CBRN attack typically involves containment, decontamination, or depopulation within the impacted areas, which would affect the economy in three major ways. First, the implementation and execution of the response efforts require personnel and technical resources. Second, monetary aid would have to be distributed to compensate the affected stakeholders for any losses. Third, the contaminated products would not be exported, resulting in major trade loss for the nation. In addition to economic destabilization, the social implications of disasters and disaster response, like the stigma associated with the depopulation of livestock, are important impacts to consider as the range of disaster preparedness, response, and recovery is considered.
There are many processes in FA systems, so the sector uses robust access and control measures to prevent and mitigate the consequences of CBRN attacks. In addition, early warning systems are also vital to this sector as they provide situational awareness of potential threats that are circulating within a population. For example, the Food and Emergency Response Network is an integrated laboratory network that plays a central role in detecting threats and providing early warning to ensure food safety and defense.
Technological disasters are also becoming an increasing problem as the FA Sector heavily depends on IT for daily operational activities. For example, GPS technology is used for precision agriculture and for the transportation and distribution of food and agriculture products. Power outages, cyberattacks, or other technological disruptions have the potential to adversely impact the sector. The National Institute of Standards and Technology Cyber Security Framework provides standards and guidelines across the sector to ensure the detection and mitigation of cyberthreats.
Fortunately, USDA, which shares Sector Risk Management Agency duties and responsibilities with the Department of Health and Human Services for FA, also has significant experience in and resources for responding to, recovering from, and mitigating potential FA disasters and emergencies.
USDA serves as the coordinator for Emergency Support Function (ESF) #11, which provides the structure to facilitate federal support to states and federal-to-federal support during disasters and emergencies when agriculture and natural resources are impacted. This support helps feed people, ensure the safety of certain food products, address animal and agricultural health issues, and evaluate damage to natural and cultural resources and historic properties.
When it comes to hazards and risks, such as potential outbreaks of foreign animal diseases, USDA's Animal and Plant Health Inspection Service (APHIS) collaborates with stakeholders to conduct surveillance activities that provide key information on foreign and domestic animal diseases. APHIS laboratory services are carried out by the National Veterinary Services Laboratories, which provide diagnostics and training services, support on-the-ground responses to animal health emergencies, participate in scientific associations, and serve as a global reference laboratory for 14 diseases.
It is also necessary to mitigate threats and not just respond once the worst happens in order to sustain the overall competitiveness of U.S. agriculture to maintain an abundant food supply for people and livestock, to support the farmers, ranchers, and workers who drive the FA Sector, and to sustain the vitality of rural communities, rural and urban agriculture infrastructure, and agricultural businesses. USDA's National Institute of Food and Agriculture supports the resilience of the FA Sector to biosecurity risks, and the many other risks already mentioned through the Food and Agriculture Defense Initiative Extension Disaster Education Network (FADI-EDEN) program.
This initiative is made up of three separate but critical networks. The first is EDEN, which expands the Cooperative Extension System's educational role with a focus on FA before, during, and after a disaster, using an "all-hazards" approach to enhance the nation's ability to manage domestic incidents.
The National Plant Diagnostic Network (NPDN) is focused on reducing the vulnerability of the United States food and agricultural system to chemical or biological attack. The network coordinates the development, implementation, and enhancement of diverse capabilities for addressing threats to the nation's agricultural economy and food supply. This network's main goal is to: produce educated and capable first responders, provide accurate, reliable, and timely diagnostics and surveillance, and supply useful, real-time data from innovative information and communication systems.
The third and final network in this program is the National Animal Health Laboratory Network. Like the NPDN, the goal of the network is to provide early detection, rapid response, and appropriate recovery support from an adverse animal health event. Its activities supporting disease identification and surveillance focus on identification of high-consequence pathogens, including those that are transboundary/foreign animal diseases endemic to the U.S. as well as newly emerging diseases.
NSM-16 also assigned key roles to USDA, HHS/FDA, DHS, and other federal partners in the ongoing effort to protect the FA Sector. Together they will continue to integrate FA Sector efforts to promote the security and resilience of the nation's critical infrastructure. Together, federal partners continue to look for how research and development (R&D) of current and new capabilities meant to enhance the security and resilience of the FA Sector can be accelerated and expanded.
WHAT ELSE DO EMERGENCY PREPAREDNESS, RESPONSE, AND RECOVERY PROFESSIONALS NEED TO KNOW ABOUT THIS SECTOR?
This sector is not only extremely complex and heterogeneous (e.g., consider the differences between a tilapia farm, a seasonal vegetable farm, and a range-based cattle management operation), but it is also predominantly privately owned. A resilient FA Sector, therefore, largely depends on the overall involvement across private industry, SLTT governments, and other stakeholders. Integration and coordination within all levels of the FA community – not just at the federal government level – are essential to building more unified preparedness, response, and recovery efforts.
One of the single best things to do is to reach out and interact with EDEN. They not only offer a great network of extension specialists to interact with and learn from but can provide busy emergency managers with homeland security processes for disaster planning, preparing, mitigating, responding, and recovering in a FA context. These educational resources are available on their resource dashboard.
Increased interaction, communication, and information sharing across the sector are vital. They supply situational awareness during an emergency by identifying near-real-time vulnerabilities and threats that can bolster everyone's strategic planning. More specifically, they ease and enhance technical assistance and risk management activities that reduce the overall consequences of catastrophic events.
Ultimately, not all human-caused or natural disasters are the same. The varying degrees of impact associated with any given incident and the various FA equities it may or may not touch mean that preparedness, response, and recovery efforts will not (and should not) look the same in every disaster. There is no "one-size-fits-all" solution in FA. While that can be challenging when thinking about solutions for the sector in general, it also points to the importance of the inherent resilience that diverse and decentralized systems have. Any solution across the preparedness, response, and recovery spectrum that does not reinforce the already existing strengths of the sector is a solution that should be reconsidered.
This article was supported by the U.S. Department of Agriculture, Office of Homeland Security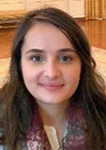 Aurelia Berisha, Policy Analyst, U.S. Department of Agriculture (USDA), Office of Homeland Security, National Security Division.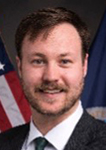 Isaac Dietrich, Policy Analyst, U.S. Department of Agriculture (USDA), Office of Homeland Security, National Security Division.

Ben Dinsmore, Program Manager, U.S. Department of Agriculture (USDA), Office of Homeland Security, National Security Division

Bert Cramer, Program Manager, U.S. Department of Agriculture (USDA), Office of Homeland Security, National Security Division

Heather Allen, Chief, National Security Division, U.S. Department of Agriculture (USDA), Office of Homeland Security, National Security Division.



Black Emergency Managers Association International
Washington, D.C.
bEMA International
Cooperation, Collaboration, Communication, Coordination, Community engagement, and Partnering (C5&P)
A 501 (c) 3 organization